Norwalk, Connecticut is located in the North East region of the United States near Bridgeport-Stamford-Norwalk. It has a population of 83295 people 49.36% male and 50.64% female.
The average high temperature in the summer is 83 degrees with an average low temperature of 17.5 degrees in the winter. You should expect 44.5 inches of annual rainfall and 24.1 inches of annual snowfall.
The safety score in Norwalk is 5 out of 10 with 10 being the worst and 1 being the best (national average is 4). The unemployment rate in Norwalk is 7.4%. The average commute time is 27.3 minutes. The overall cost of living score is 161 as compared to a national average of 100. Voter registration in Norwalk is 40.54% Republican and 58.72% Democrat. See detailed report below.
Local History
Roger Ludlow purchased the areas east of the Norwalk river from Chief Mahackemo of the Norwaake (or Naramauke) Indians in 1640.[8] Norwalk was settled in 1649, incorporated September 1651, and named after the Algonquin word noyank, meaning "point of land", or more probably from the native American name "Naramauke".[9]
The Battle of Norwalk took place during the Revolutionary War, and led to the burning of most of the town. In 1836, the borough of Norwalk was created, covering the central area of the town. In 1853, the first ever train disaster in the United States happened over the Norwalk River. During the 19th and early 20th century, Norwalk was a major railroad stop for the New York, New Haven, and Hartford Railroad. The city of South Norwalk and the remaining parts of the town of Norwalk were both combined in 1910 to form the current city.
The Ku Klux Klan had a brief presence in Norwalk during the 1920s, but quickly fell apart due to internal issues. In 1955, multiple hurricanes hit the city, causing flooding in Norwalk Harbor. During the 1970s, efforts were taken to historically preserve South Norwalk, resulting in the creation of the Washington Street Historic District. 
Things To Do
https://hotciti.com/singlelisting?map-search1=Norwalk+Connecticut
Town Website
Livability Score
Norwalk has a Livability Score of 69/100, which is considered average
Norwalk crime rates are 1% lower than the Connecticut average
Cost of living in Norwalk is 18% higher than the Connecticut average
Norwalk real estate prices are 55% higher than the Connecticut average
Rental prices in Norwalk are 35% higher than the Connecticut average
Walkability Score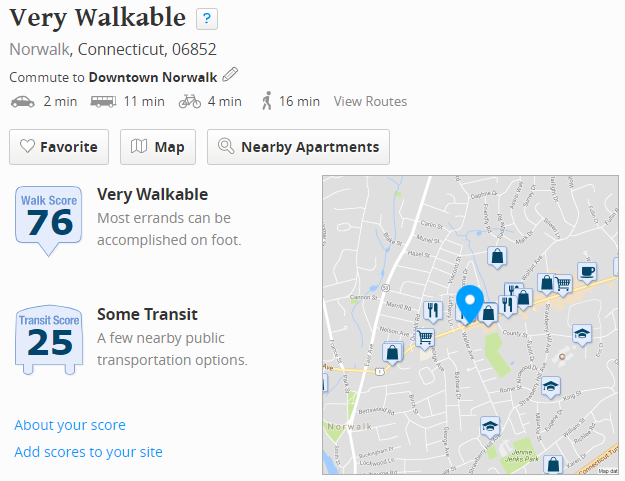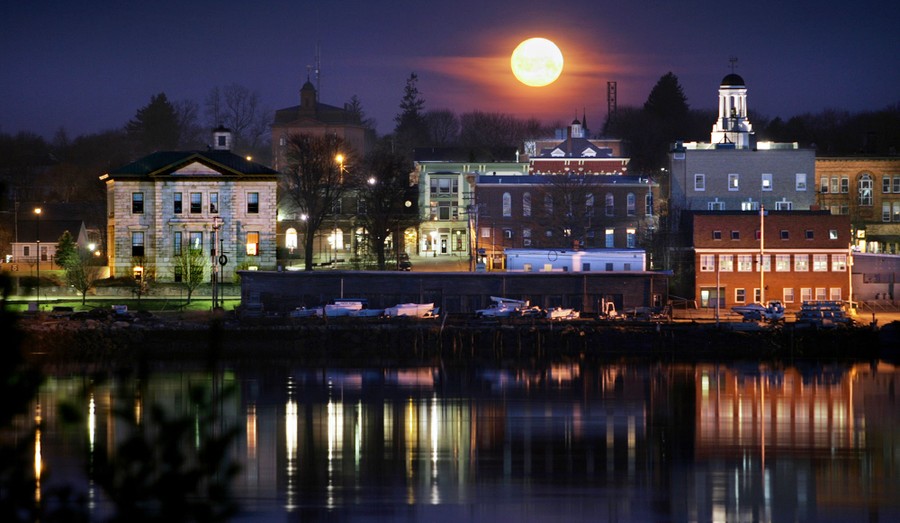 Accommodations
https://hotciti.com/find_hotels?location=Norwalk+Connecticut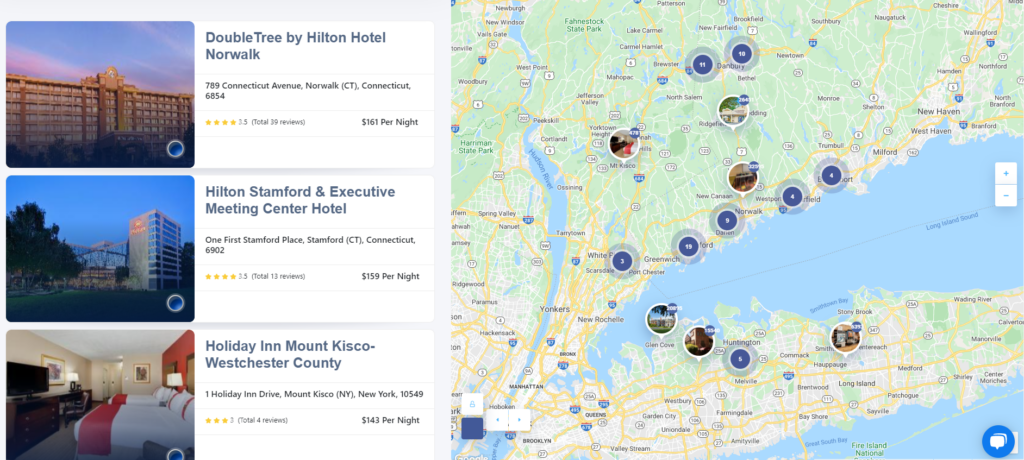 Local Schools
https://hotciti.com/find_schools?location=Norwalk%20Connecticut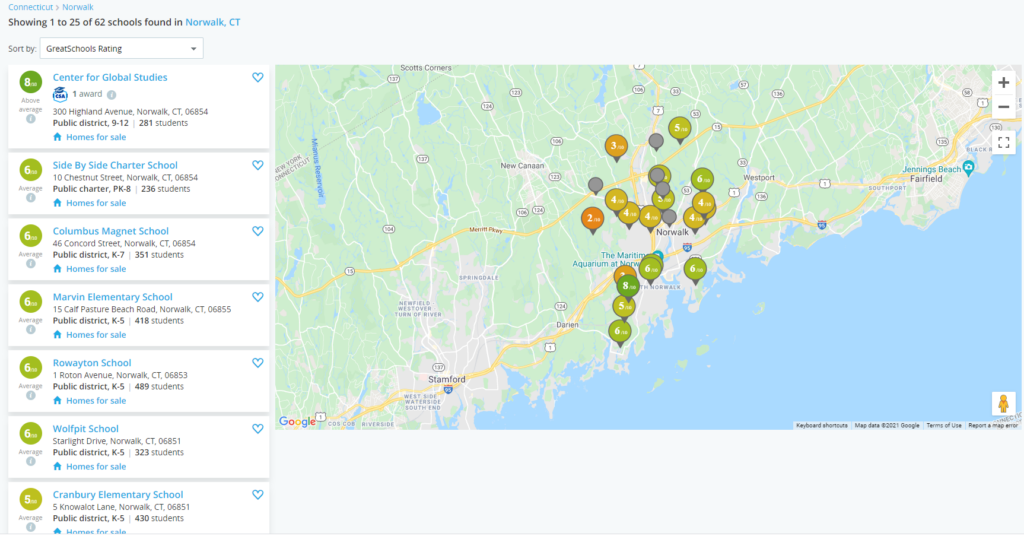 HOMES FOR SALE
Click here to view all homes for sale: https://hotciti.com/find_homes?location=Norwalk%20Connecticut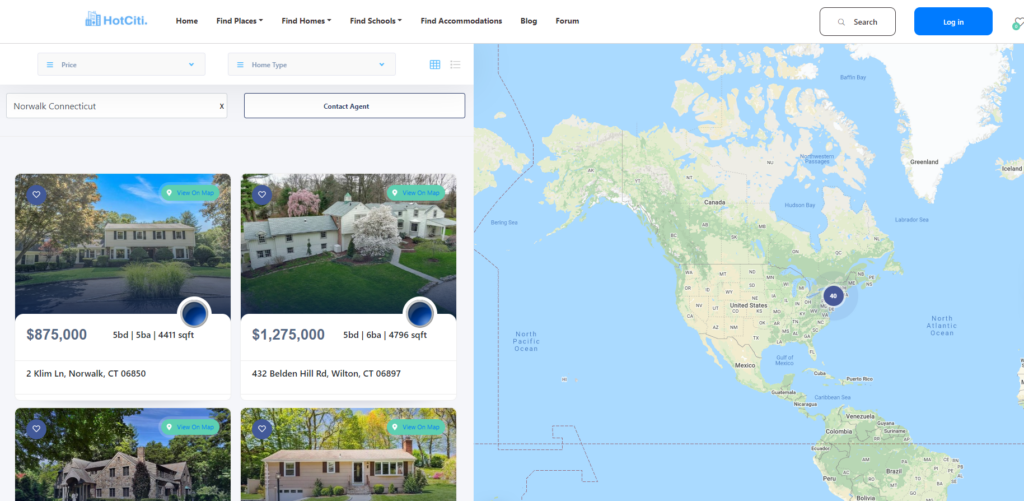 Population83295
Population Density3653
Population Change0.4
Male Population49.36
Female Population50.64
Married Population53.96
Single Population46.04
HOUSEHOLD INFORMATION
Number Of Households32868
Avg. Household Size2.51
Median Home Age48
Median Home Cost435700
Home Appreciation-12.78
WEATHER & ENVIRONMENT
Air Quality7.8
Water Quality32
Snowfall24.1
Pollution83295
Rainfall44.5
Precipitation Days100
Sunny Days179
July High83
January Low17.5
Comfort Index45
UV Index34
CRIME & SAFETY
Violent Crime5
Property Crime4
UNEMPLOYMENT
Unemployment Rate7.4
Recent Job Growth-3.24
Future Job Growth26.12
TAXES
Sales Tax6
Income Tax5
Property Tax13.56
INCOME
Household Income7.44
Percent Between 15-25k6.36
Percent Between 25-35k7.25
Percent Between 35-50k13.08
Percent between 50-75k17.08
Percent Between 75-100k13.98
Percent Between 100-150k18.46
Percent Between 150-250k11.01
Percent Between 250-500k3.54
Percent Greater Than 500k1.8
OCCUPATION TYPE
Business / Finance18.95
Professional21.61
Service:14.24
Sales & Office26.84
Farming, Fishery, Forestry0.09
Construction9.12
Transportation9.15
POLITICS
Democrat:58.72
Republican:40.54
Independent:0.742
HOME STATUS
Homes Owned: 59.35
Homes Vacant: 4.03
Homes Rented: 36.62
PUBLIC SCHOOL SYSTEM
Annual Spend Per Student: 9817
Student To Teacher Ratio: 146
Students Per Librarian: 554
Students Per Counselor: 377
EDUCATIONAL ATTAINMENT
High School Graduation Rate: 82.27
Percent With Associate Degree: 6.63
Percent Bachelor Degree: 20.78
Percent Graduate Degree: 12.79
COMMUTE TIME
Av Commute Time: 27.3
% Auto Alone: 74.04
% Carpool: 11
% Mass Transit: 8.37
% Work At Home: 3.66
% < 15 mins: 33.63
% 15-29 mins: 33.62
% 30-44 mins: 17.36
% 45-59 mins: 5.66
% >= 60 min: 9.72
COST OF LIVING: National Average = 100
Overall Score: 161
Cost Of Food Score: 117
Cost Of Utilities Score: 147
Cost Of Misc Score: 116
RELIGION
% Religious: 67.16
% Catholic: 47.23
% Protestant: 0
% Mormon: 0.36
% Baptist: 1.8
% Episcopalian: 2.08
% Pentecostal: 0.88
% Lutheran: 1.09
% Methodist: 1.37
% Presbyterian: 0.6
% Other Christian: 5.68
% Jewish: 3.93
% Buddhist (Eastern): 0.03
% Islam: 2.09